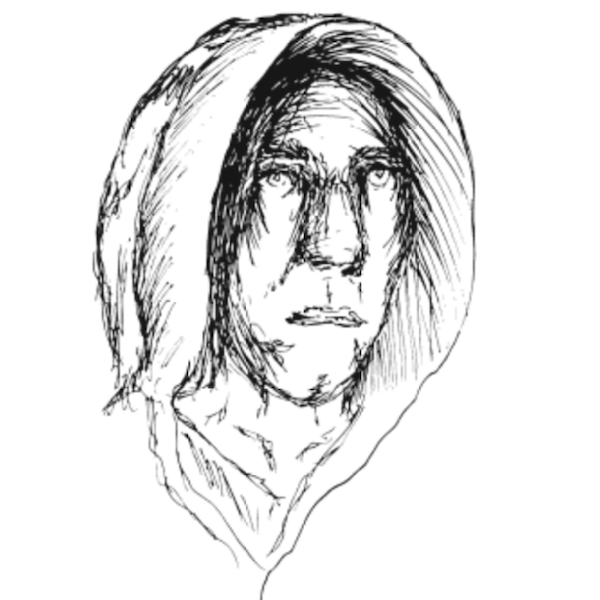 Her name was Moll Derry, but everyone knew her as the Witch of the Monongahela.
In the ancient hills and misty hollows of Fayette County, Pennsylvania, generations of locals have passed down stories of a woman with mysterious magical powers. People came from near and far to seek healing and protection through her strange rituals. Some believed she could see the future. Some even believed she could fly.
The legend of the Witch of Monongahela has been documented by writers and folklorists for more than two hundred years. But who was Moll Derry, really? Solid historical details are far more elusive than tales of her magical abilities, but this is what we know.

The Real Witch
There are stories from around the country of strange or inexplicable people. Moll Derry was one of them.
She seems to have been born around 1760 and to have arrived in America with her husband, a Hessian mercenary who fought with the British during the Revolutionary War. Sometime after their arrival, the Derrys switched sides, with Moll's husband becoming one of Daniel Morgan's famous sharpshooters. He was such a good shot that there were even rumors that he rubbed himself with special potions or that he was a "wizard."
Eventually, the couple ended up in the mountainous terrain of southwestern Pennsylvania. Before long, Moll had earned her own supernatural reputation as an uncannily accurate fortune teller.
A newspaper story that ran in 1879, a few decades after her death, recalled Derry's simple homemade clothes and her love of coffee — and most of all her ability to help her rural neighbors find missing horses and cows and pocketbooks: "Many and miraculous were the stories treasured in the memory of the oldest inhabitants, and related for fireside entertainment, of her actually telling, without any hint, the article lost, when and where it could be found, and if stolen a description of the thief."
But then the story hinted at a darker conclusion: "It was thought by many that Moll had intimate dealings with the devil."
The Legends
Moll and her husband ended up having seven children. There are a smattering of legal records and newspaper stories about them, just like there are about Moll. Her last will and testament has survived and is dated May 15, 1843.
But most of the stories surrounding her must necessarily come from the realm of legend. It was said that farmers who crossed her ended up with cows that would not produce milk and bread loaves that would not rise. It was said that she could control rattlesnakes and had an army of them protecting her home.
Related: The True Story of Diana of the Dunes
The Witch of Monongahela could even be deadly. One time, in 1794, three rough and violent men ran into Derry in the countryside and mocked her ability to see the future. Derry defiantly cursed these men, promising they would all hang.
Within a few months, the first man, John McFall, killed a tavern keeper in a drunken rage; he was hanged in Fayette County. A few years later, the second, Ned Cassidy, murdered a man in a bar fight in Ohio; he also went to the gallows. The third man, whose name has not survived, ended up in Greene County. When he heard of Cassidy's hanging, he chose to hang himself.
Was this because of the power, the inevitability, of Derry's curse? Or was it a coincidence? Either way, it was out of character for the Witch of Monongahela. As that old 1879 newspaper story put it, "As far as known, she harmed no one, and if she got her money and her coffee, she was always contented."
Want to learn more about Moll Derry? Check out The Witch of the Monongahela: Folk Magic in Early Western Pennsylvania and other similar titles at arcadiapublishing.com!