When you hear the name Ford, you think cars. When you hear the name Heinz, you think ketchup. And when you hear the name Max Factor, you think cosmetics, of course!
Who conquers Hollywood, and then goes on to an even bigger sequel? After becoming the standard for glamour in the motion picture business, Max Factor set his sights on all of America, ultimately changing the way American women see themselves. He was a pioneer, creating an industry that thrives to this day. The Russian immigrant's path to the leading name in cosmetics is a classic American tale of hard work, innovation, technology, and luck.
Russian Wig Maker
As a boy in Lodz, Russia (current Poland), Maksymilian Faktorowicz learned the art of wig making for theater, which naturally led him to stage makeup. The talented youth excelled behind the scenes and was hired by the prestigious Russian Grand Opera. With the group, he traveled throughout Russia and performed for Czar Nicholas and his family. The aristocracy took notice of the young prodigy and commissioned Factor for their ostentatious wigs and costumes. But Russia's political instability at the turn of the 20th century compelled the successful Factor, now married with children, to turn his back on his career, and board a steamship bound for America.
Joining Max's uncle and brother in St. Louis, Max opened a booth at the World's Fair, selling his exquisite wigs, hairpieces and cosmetics, and all new to American customers. Business partners failed him, sending Max to work in a local barbershop. It was here that the ambitious immigrant would hear about a new entertainment: motion pictures.

California Bound
Max Factor set his sights on the movie town Los Angeles in 1908 (Hollywood was still in its infancy). Shrewdly, he opened Max Factor's Antiseptic Hair Store neat the city's many vaudeville theaters, where he sold his own cosmetics and custom-made wigs, toupees, and goatees, but his biggest seller was theater greasepaint, a staple for generations of stage actors. Factor, always the innovator, concocted his own version of greasepaint that complimented the harsh moving picture camera lighting. He dubbed his new product Supreme Greasepaint and offered it a variety of skin tones. Certain makeup shades and colors could also complement specific hair and eye colors and skin complexions. Both actors and actresses alike saw the improvement in film.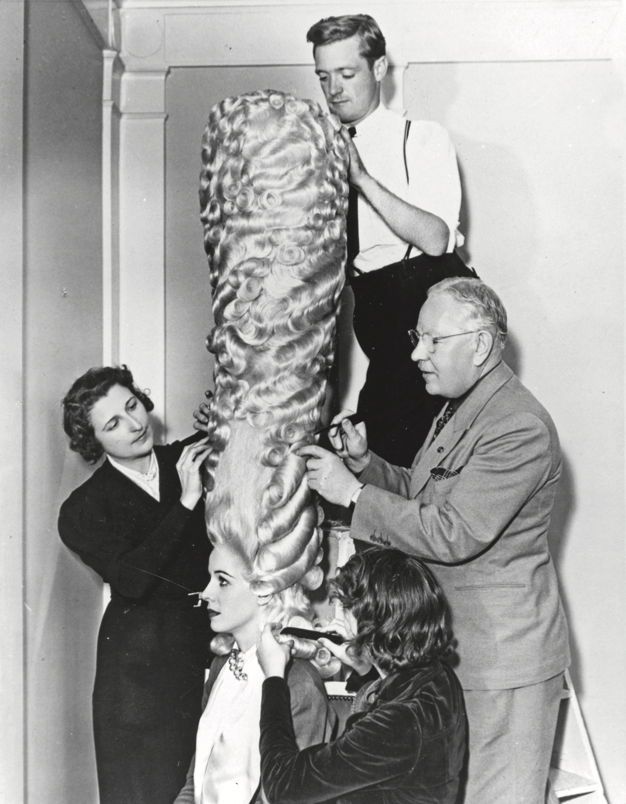 Hair for Rent
Factor wasn't content as a cosmetics innovator. The former wig master also put his talents to use in early movies, where characters' fake hair just wasn't cutting it. Filmmaker Cecil B. DeMille suggested that Factor rent the wigs and hairpieces to his production each day. And just like his makeup, the wigs became an in-demand product.
From Hollywood to Main Street
Factor's cosmetics line Society MakeUp debuted in 1916 and was a hit with movie stars, but quickly caught on with high-society women and the wives of movie producers. Makeup had not been a common luxury item for American women before Max Factor repackaged his movie-tested cosmetics and placed them in drugstores. Women wanted to look like Joan Crawford and Mary Pickford, and Max Factor delivered that dream. Colorful print magazines ran advertisements for Max Factor Makeup, along with mail-order forms. Because his makeup was not yet mainstream, Max Factor and Company included pamphlets with detailed instructions for application.
"A woman who doesn't wear lipstick feels undressed in public. Unless she works on a farm."—Max Factor
Beauty Regimen
Not every woman was born with the outward beauty of the reigning screen queens of the era. And for some, makeup could only take them so far. Factor worked to teach how to keep a good skincare regimen. His popular Society MakeUp included cleansers and beauty aids and helped to address scars, freckling, wrinkles, and clogged pores. In the 1950s, Max Factor and Company's Secret Key treatment line improved complexion by removing the contaminants that work as a barrier to moisturizers and night creams penetrating the skin. Years before the health food movement, Max Factor preached the virtue of healthy eating, proper sleep, and sun protection. All were integral parts to a woman's beauty regimen and remain so to the present day. Quite a legacy for an immigrant wigmaker!